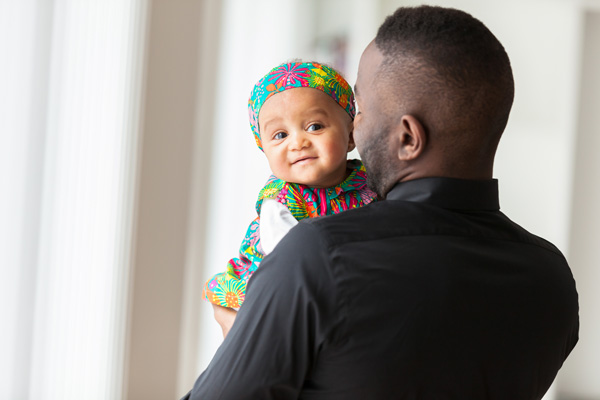 Children's Services of Roxbury's Family Visitation Program provides safe, neutral, and professional locations for visits for low-income families in the Greater Boston area. The supervised or un-supervised visits between the children and their custodial or non-custodial parents are conducted based on the parameters designated by the court order. Trained staff supervise each visit and remain neutral at all times while facilitating the visitation. The three types of visitation services are outlined below:
Visitation Services
Onsite, supervised visits
Onsite, un-supervised visits
Supervised pick-up and drop-off exchanges
The visitation program provides a fresh start for children and their custodial or non-custodial parents. They spend quality time together time in a safe, comfortable and private room. CSR encourages consistent visits that help to create a positive relationship between the children and their caregivers.
Download our CSR Newsletter – Winter 2020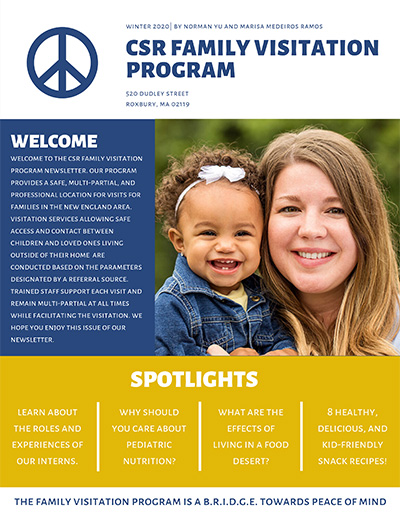 Services Provided
Healthy food and snacks (if allowed by the custodial parent)
CPR and first-aid trained staff
Secured outdoor playground (available upon request)
On/offsite cameras to ensure safety
Security guard
Trained caseworkers
Friendly and professional intake personnel
Visitation Hours
Thursday – 5:00pm to 8:00pm
Sunday – 11:00am to 5:00pm
Visitation Fees
Based on a sliding- scale
Paid upon each visit
Check or money order only (no cash is accepted)
Visitation Location
CSR's Early Education and Care facility, 520 Dudley Street, Roxbury, MA
Rooms equipped with age-appropriate toys, games, books and videos
Access to an outdoor play space
Comfortable furniture creates warm environment for children and their families
To schedule an intake for CSR's Family Visitation Program, please call 617-989-9484
Office Hours
Monday, Tuesday, Wednesday – 9:00am to 5:00pm
Thursday – 11:30am to 6:30pm
Sunday – 10:30am to 5:00pm
By appointment only (no walk-ins)
Intake Fee
$25 for custodial & non-custodial parents
Intake process is available in English and Spanish
For more information about CSR's Family Visitation Program, please call 617-989-9442.