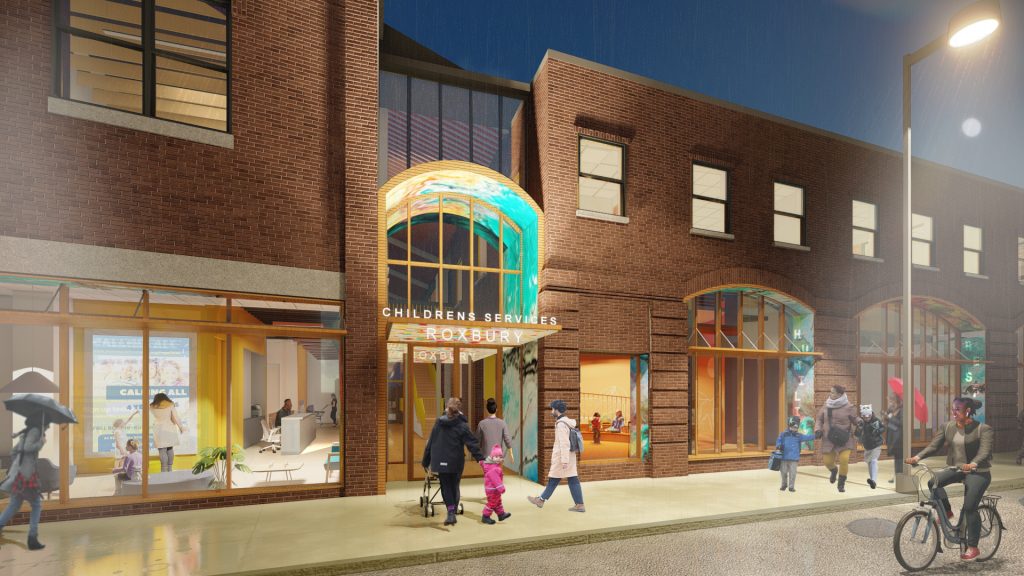 Boston, Mass. (April 4, 2023) – Today, Children's Services of Roxbury (CSR), Massachusetts' largest Black-run non-profit, announced that it received its first major gift to begin a renovation of its 50,000 sq ft. headquarters. The $1.5 million gift from Liberty Mutual Foundation supports a project that will transform CSR's headquarters into a welcoming space for the community to readily access CSR's wraparound services.
"This is a pivotal time for CSR. Liberty Mutual's investment in the families we serve means the world to us; we are deeply grateful," said Sandra McCroom, President & CEO of Children's Services of Roxbury. "This positions CSR to offer barrier-free access to opportunities and supports that will change the trajectory for communities of color across Massachusetts."
CSR has been on the front lines, breaking generational trauma through culturally congruent services for the past 50 years. The renovation enables CSR to scale its services to provide housing for homeless families, affordable childcare, children's mental health services, intensive foster care, and youth development programs.
Additionally, CSR will launch three new programs: The Front Porch – a physical space for Boston families in crisis to access critical supports; The Launch Pad – a technology embedded makerspace for young people that fosters creativity, skills-building, and career exploration; and Pre-Kindergarten for Boston Public Schools Children Experiencing Trauma – new classrooms designed in partnership with Boston Public Schools (BPS) to support Boston's highest needs children.
"For over 50 years, Children's Services of Roxbury has provided the critical support underserved children and their families across Massachusetts truly need," said Liberty Mutual Foundation President Melissa MacDonnell. "This investment will enable their organization to further address inequities in our communities and help children of all ages reach their potential."
Through this transformation, CSR's programs will grow by 25 percent to serve an additional 1,500 children and parents annually within three years after the building is complete. This growth will also add over 100 career-oriented jobs to the local economy, reflecting a 25 percent growth in CSR employees.
Other major support for the project includes partnerships with Boston Children's Museum and MASS Design Group. Boston Children's Museum President and CEO Carole Charnow said that Boston Children's Museum is helping CSR create spaces that invite children and families to engage in exploration and play while connecting with CSR resources.
Patricia Gruits, MASS Design Group Co-Executive Director, said that the partnership between Children Services of Roxbury and MASS Design Group is a powerful example of how collaboration can lead to meaningful, impactful change for the community. "The renovation of the building leverages MASS Design Group's expertise in trauma informed design, not only to improve the physical space for the children and families served by the organization, but also to create a symbol of hope and opportunity for the entire Roxbury neighborhood," said Gruits.
"It is our hope that other organizations and individuals will choose to be a part of this monumental effort that will impact generations to come," said McCroom.
The renovation project is on target to be completed in 2025.
*****
About Children's Services of Roxbury:
Now in its 50th year of service, Children's Services of Roxbury (CSR) brings peace of mind to children and families across the Commonwealth through housing for homeless families, culturally attuned behavioral/mental health services, foster care for abused and neglected children, family support services, affordable childcare for low-wage families, and youth resiliency and development programs.
CSR is Massachusetts' largest Black-run non-profit, whose Board and leadership are 75%+ people of color. CSR is a $36 million enterprise that employs 400 community residents, 90%+ people of color. Located in Roxbury MA, with additional offices in Northampton, Tewksbury, and Worcester, CSR serves Black and Brown communities throughout the state, reaching 6,000 children and families annually.
Contact Sue Marble Cuthbert, Vice President of Development, for more information on CSR's renovation plans: smarble@csrox.org | 617-989-9480. Learn more about CSR: www.csrox.org 
About Liberty Mutual Insurance:
At Liberty Mutual, we believe progress happens when people feel secure. By providing protection for the unexpected and delivering it with care, we help people embrace today and confidently pursue tomorrow.
In business since 1912, and headquartered in Boston, today we are the sixth largest global property and casualty insurer based on 2021 gross written premium. We also rank 78 on the Fortune 100 list of largest corporations in the US based on 2021 revenue. As of December 31, 2022, we had $50 billion in annual consolidated revenue.
We employ over 50,000 people in 29 countries and economies around the world. We offer a wide range of insurance products and services, including personal automobile, homeowners, specialty lines, reinsurance, commercial multiple-peril, workers compensation, commercial automobile, general liability, surety, and commercial property.
For more information, visit www.libertymutualinsurance.com.