A stable home for your children, food to eat and clothes to wear are the necessities every parent hopes/wants to provide for their family. But for families in shelter, like Evelyn S., mother of four, providing such necessities is often very challenging.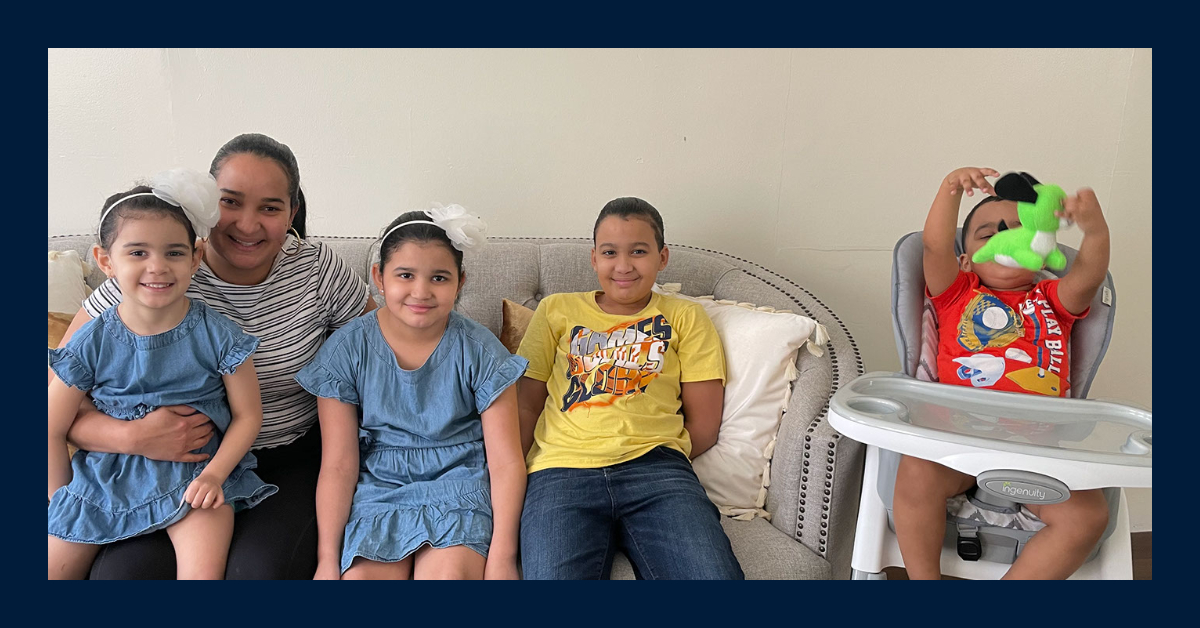 Evelyn S. and her four children (ages 10, 8, 4 and 2) in their new home
Evelyn and her four children (ages 10, 8, 4 and 2) are among the 1000+ homeless parents and children living in CSR's family shelter each year, receiving intensive personal supports and help finding permanent affordable housing. The staff also provide families in shelter with necessities such as clothing and food, as well as job placement, financial literacy, and much more.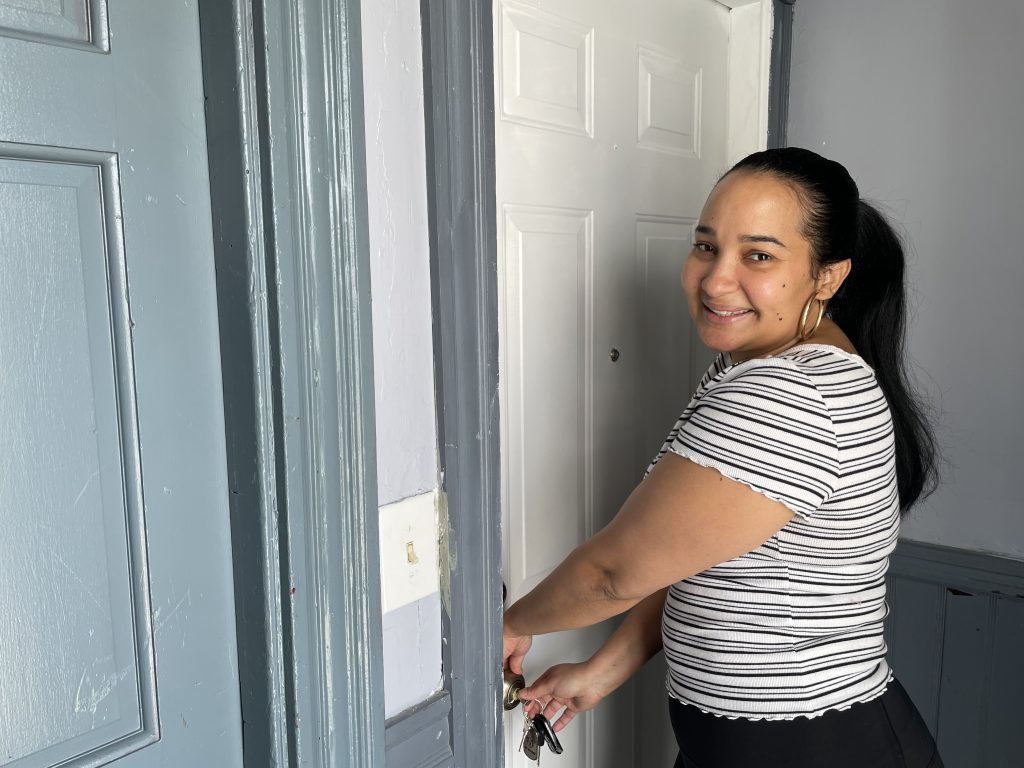 In February 2021, after two years in shelter, Evelyn and her four children were excited to finally move from shelter to permanent housing. "There's a lot of good people at CSR," Evelyn said. "Every time I needed an answer, I would get an answer, and anytime I needed help, someone was there to help me with things like clothing and food."
Evelyn was dedicated to doing her part in securing a stable home. While in shelter, she worked part-time to help support her family. With the support and guidance provided by CSR's team, she saved 30% of her income, and with a secured credit card, she began to build her credit. "Evelyn is the type of person who followed our lead and listened to our suggestions and guidance," said Marlin Jimenez, CSR Assistant Director of Scattered Sites.
Evelyn had no credit, and at first was not aware of how important her credit score is to secure permanent housing. Marlin worked closely with Evelyn to find the family a permanent home. "Most people think that once you get approved for a Section 8 housing voucher that's all it takes, but landlords still do background checks, still require deposits, and still pull your credit history to decide if you'll be approved for the apartment," said Marlin. "It's just more difficult for someone in shelter because they're trying to get their life in order."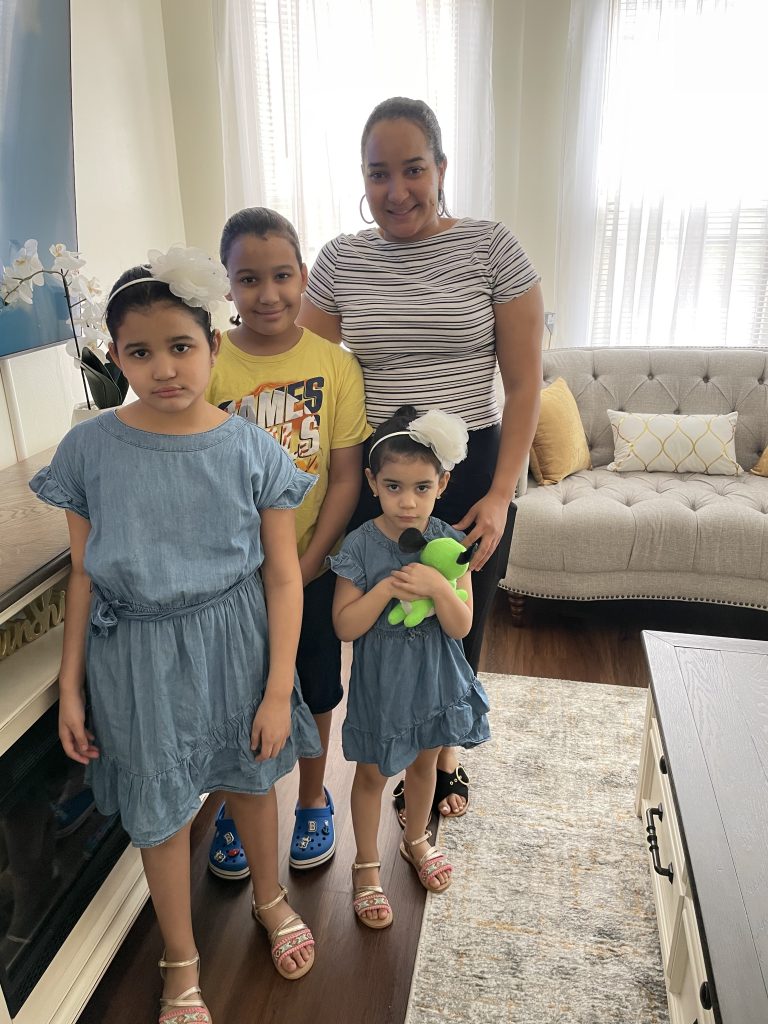 "The savings I had and the fact that I was able to build my credit really helped me move from shelter to my new home," said Evelyn. "For the first time in a long time, life started to feel stable," she said. "I felt very comfortable working with Marlin because she speaks Spanish, so it was easier for me to communicate and understand, but the whole CSR team really helped me and my family."
When Evelyn finally got approved for a voucher, she still faced many obstacles finding a four-bedroom apartment for her family. From the ups and downs of finding four-bedroom housing, to the back and forth of finding a landlord who would give her the chance and opportunity, to a failed home inspection, Evelyn became emotionally and mentally drained. "Marlin and her team at CSR really helped to keep me encouraged," Evelyn said, "but experiencing that type of roller coaster disappointment was really hard…The house [I finally found] wasn't perfect. I had to take initiative to fix some things myself, but it was a home for me and my children which was all we ever wanted," she said.
While Evelyn experienced disappointment throughout the process, she never lost faith. She instead channeled her focus on the positive aspects of her life, her children, and dedicating her free time to helping others in shelter. While in shelter, Evelyn often helped a single mom of three girls, who also occupied one of the floors in the scattered site housing unit. Evelyn would watch the children while the mom ran errands, she helped the mom get her driver's permit, shared mental health resources, and she uplifted the mom's spirits, building her self-esteem, when she confided in Evelyn. "Someone always has it worse than you, so it's important to be good to others and keep the hope," Evelyn said.